The Guide To Understanding Ransomware For Accounting & Bookkeeping Firms [2023]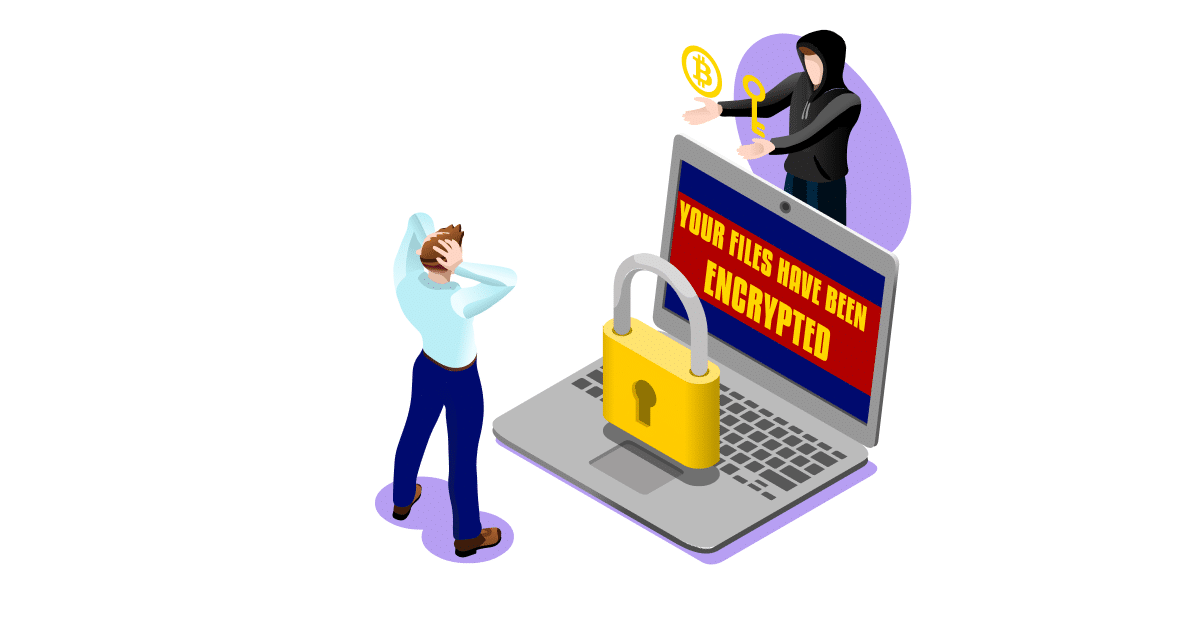 Ransomware attacks have played a prominent role in the headlines over 2022, but underneath the big corporate hacks, small and medium businesses are also being successfully targeted by this form of hack.
Experts predict that based on ransomware's run in 2022, this will only get worse in 2023. Therefore it's important that as custodians of sensitive client data, you understand what ransomware is, how it can happen to your firm and steps you can take to avoid it.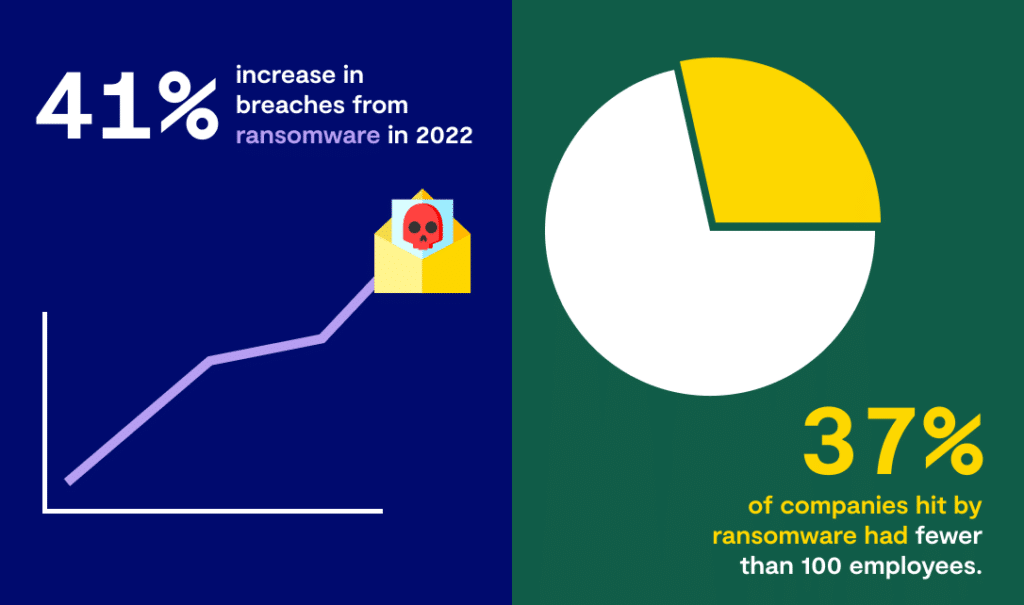 What is ransomware?
Ransomware is a kind of malware that encrypts files and data so they can't be accessed unless a fee is paid to decrypt them. Many variations of ransomware exist, and email is one of the most popular vehicles cybercriminals use to spread ransomware.
The impact of ransomware on accounting and bookkeeping practices
A successful ransomware attack impacts a firm in different ways, outline below:
Breach response costs. The most obvious impact of a ransomware attack on a firm is the cost of responding to the breach. This can include paying the ransom costs (though not recommended), handling immediate damages and repairs brought on by the attack, and paying fines.

Hiring consultants and experts to handle the aftermath of a ransomware attack will also incur costs. This commonly includes IT security consultants, lawyers, personnel handling calls from clients, and PR consultants.

Business downtime. According to Statista, a successful ransomware attack cripples the average company with almost three weeks of downtime. Sophos Research says that recovering from a ransomware attack is 10 times the size of a ransom payment.

Reputational damage. In the wake of a ransomware attack, clients may feel decreased trust in an accounting or bookkeeping firm that has been breached. The reputational cost of a cyber attack can be devastating, with 60% of small businesses reportedly going out of business after suffering an attack.

Paying the ransom. While paying the ransom is highly inadvisable (the State of Ransomware 2021 Report reveals only 8% of businesses that pay the ransom get their data back), firms that choose to do so of course suffer a financial burden.

Loss of files and data. The loss of data when a firm gets hit by ransomware is another cost that takes a toll on the affected firm. Even if backups are available, most firms haven't tested their restore functions prior, and thus end up not having updated backups.
Email: the common way ransomware gets a foothold in firms
94% of malware is delivered via email. Out of this, email is a popular and effective delivery method by which cybercriminals introduce ransomware into firms.
Accounting and bookkeeping businesses like yours use email in day-to-day operations—and that's why the risk of ransomware is particularly strong for accountants and bookkeepers.
We've seen ransomware attempts in accounting and bookkeeping firms that ranged from plain-text emails, to incredibly convincing ones that looked like they came from legitimate business owners or practice managers.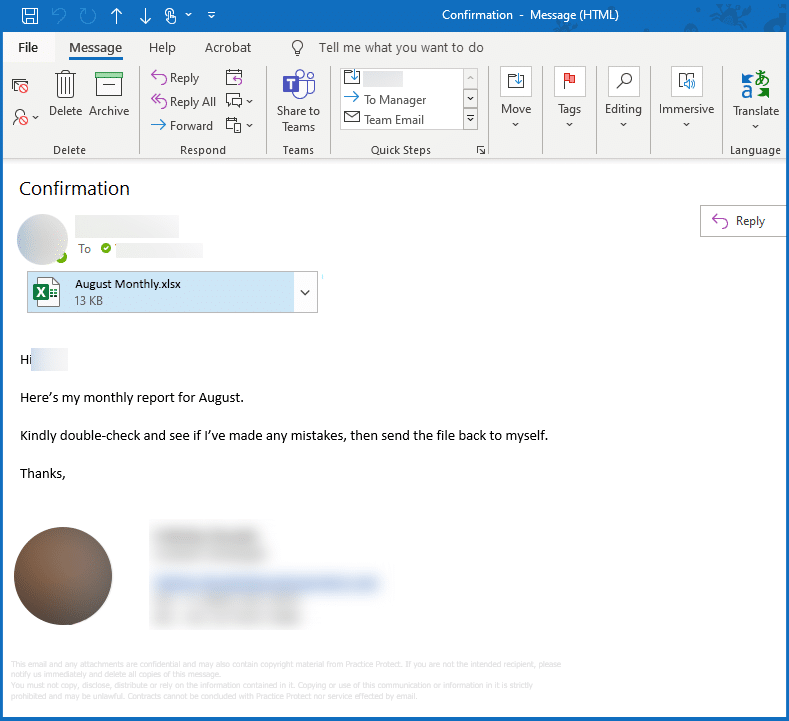 In the age of Business Email Compromise and increasingly sophisticated cyberattacks, it's becoming more important than ever that firms need to secure their email systems as a basic step in mitigating cyber risks like ransomware.
Mitigating the risk of ransomware
Understanding ransomware and its possible impact on your firm is vital in protecting your firm and client data. The next step in mitigating the risk of ransomware in your firm is to follow best practices in ransomware protection.
Secure your email systems. With ransomware attacks heavily relying on email as a delivery method, keeping on top of email security is a must for accounting and bookkeeping firms.

With 2023 gearing up to be a record year in ransomware, it's incredibly important that accounting and bookkeeping firms have a focus on email security. Learn how Practice Protect provides advanced email security to firms.

Educate your employees. As ransomware is a type of malware that relies on the human element, it is especially important to ensure that your team members know what ransomware is. As well, it's crucial that employees know what the hallmarks of a ransomware attack are.

Secure your network and company devices. This involves having anti-virus installed on devices that employees use when accessing company data, as well as making sure the networks your employees work on are secure.

Regularly back up files. Having online, encrypted backups is critical in being prepared against ransomware. It's also important to regularly test these backups. If a ransomware attack does hit, having updated backups means a firm no longer needs to pay any ransom if their data is readily accessible.

Ensure Operating Systems and devices are regularly updated. This is a necessary step in ransomware risk mitigation. Cybercriminals are constantly trying to find vulnerabilities in systems and programs that are universally used (like email or popular cloud apps). Devices that employees use for work should always be updated to the latest versions, and this goes for applications as well.
---
At Practice Protect, we have a holistic cybersecurity solution that over 20,000 accountants worldwide use to secure their data. Access management, email security, team training and compliance are at your fingertips with Practice Protect. Talk with our team to learn more.